[EN] Write up - WorldGolfChampion - leHACK 2019
Name : WorldGolfChampion
50 Points

Description : Help me, i need this flag

Url: http://static.wargame.rocks/WorldGolfChampion.pcap

Level: Very easy 

So it begin with a pcap... When we look quickly the first packet of the exchange we see clear information... Things like "User:tiger" or "Password:"...
Let's follow the TCP stream to see is we can have more information about this...
So... Looks like the log of a terminal... What do we have ?
he launch firefox to search Ashley Maddison with Qwant... Weird flex but ok...
then kill the firefox process
tries to open a keepass database
forgot the password
start to panic
search on Qwant how to reset the master password of a Keepass database
try random commands like decrypt or base64 on his keepass database file
ragequit
By using the command base64 on the keepass database file, it printed it in the terminal output so a simple base64 -dof this will give us the original keepass file.

It's looks obvious that we will have to open it to get the flag... Let have a second look on the TCP stream... He used the password woods1275 to log... Then he tried without success the following to open the database : woods1077,woods1282.
Let's gamble on the fact that his password is always "woods"+4 digits.
Small script to build all possibilities from woods0000 to woods9999.

Then we will use kpcli to make a nice bruteforce shell script. If the good pass is in our wordlist, kpcli will stop the script.
Let's run this and go afk, it could take a long time. I go have a beer and talk with the other challengers.
I stayed outside like 30-40 minutes making friends with some guys from Akerva thinking it would take a good moment... When i've left, the "John The Ripper" of Alkanor was already running for a solid 15 minutes with nothing...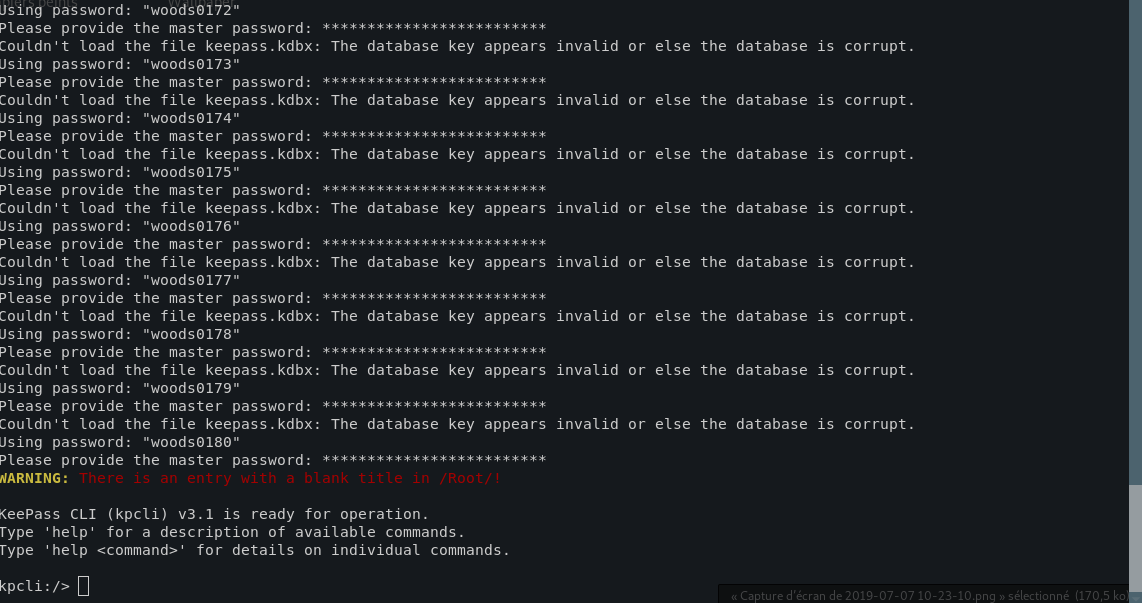 It took the huge amount of time of... 2 minutes and 30 seconds ! It found the password like 1 min after I left... Nice move... But anyway i have the pass woods0180 and the "John The Ripper" of Alkanor is still running with nothing...
Edit : John wasn't working because the wordlist didn't include word with 0 at the beginning so no chance to found 0180 :/
Let's open the database with the KeePassX GUI to have a nice display for the screenshots... woods0180 works well.
MyBestFiend and MyBestPlan looks like junk data let's see the one with noting...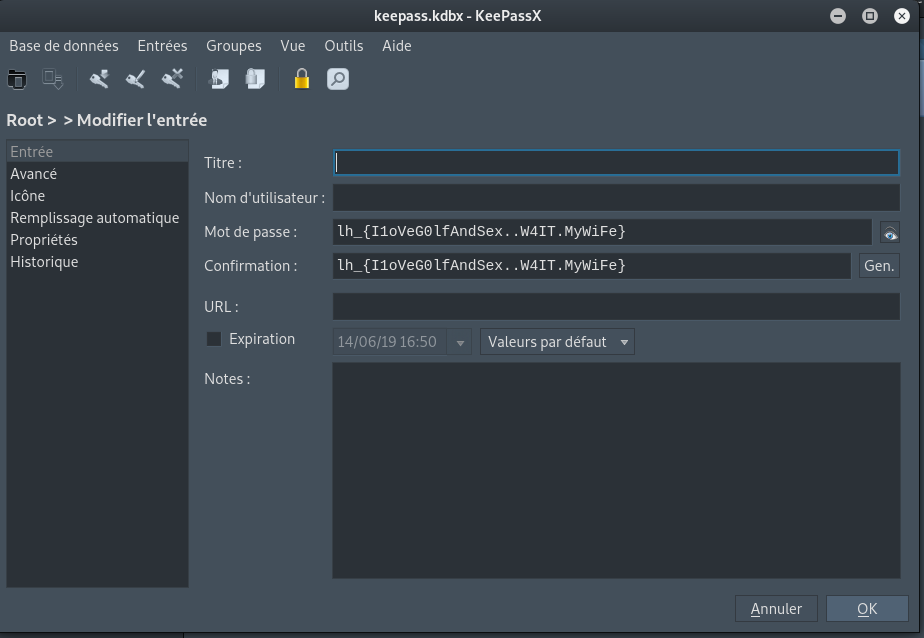 This look like a flag... Let's validate.
+50 points, time to go on an other chall !